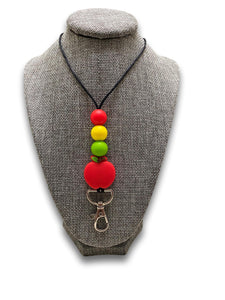 Lanyards are perfect for your ID cards, display badges, keys, etc. This lanyard features an adorable apple accent bead and makes a perfect teacher gift! 

Lanyards are made with a breakaway clasp, durable nylon cord, and food grade silicone or wood beads. They are approximately 34 inches in length and fall mid chest. (Note that, in order to get the best quality photo, lanyards sit higher on the chest in the pictures). 

While our lanyards are made with high quality silicone and wood beads, they are not appropriate for chewing as they contain a metal keychain.